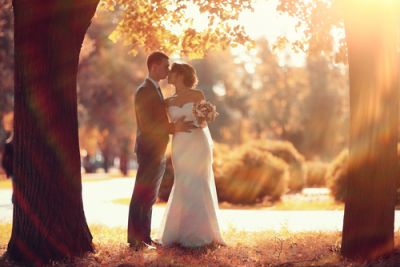 The autumn can be a picturesque and comfortable time of year. The heat of the summer begins to fade and the world slowly readies itself for the coming chill of winter. As the leaves begin to turn from lush greens to fiery reds, the world seems to fall under a magic spell that lends itself to romantic events like weddings. While it may be an ideal time to tie the knot, you also need to stay mindful of a few points. Crafting the event of your dreams means learning a little more about the unique challenges the season can present.
From blustery weather to holiday conflicts, the autumn can present a number of interesting quirks when it comes to putting together your wedding. Stay prepared for anything by exploring these tips on how to plan the perfect fall affair.
Inconsistent Weather
While all seasons tend to present unique frustrations in regard to weather, the autumn winds tend to blow with a bit less consistency. Where you plan on tying the knot will play into the weather you experience. A state like Arizona, for example, is going to have a very different temperature in the autumn than New Jersey. If your plan is to wed in a region that experiences a traditional fall, you are going to have to stay on top of the changing weather patterns to make sure you know what to expect.
A good bit of advice to keep in mind is to not put all your hopes into an outdoor affair. You may set a date in October because you want to experience your nuptials amidst the crisp air. Unfortunately, you have no way of knowing if the heat of summer will make a final appearance on your wedding day. Additionally, many areas experience heavy rainfall in the autumn. Try to have a backup plan ready in the event that the weather ruins your hopes of an outdoor event and stay one step ahead of nature.
Color Considerations
Throwing a wedding in the fall can offer you a lot of different options in regard to how you style your event. Everywhere you look, the world will be bursting with the bright oranges and yellows of the season. A great way to harness the beauty of this time of year is to incorporate nature in your decor. To feel inspired, take a walk in the woods and experience the gorgeous atmosphere of this season for yourself.
The easiest way to add seasonal colors to your decor is through your centerpieces. Work with your florist or event planner to discover a design that helps to showcase the foliage, gourds, and fauna that are plentiful during this time of year. If you don't want to be so "on the nose" about your design, consider a less direct route. Incorporate seasonal colors in understated ways by including them in your tablecloths or placement cards. Serving fall foods or desserts like pumpkin pie may also do wonders to make the presence of the autumn known.
Holidays
While the autumn may not be as packed with holidays as the winter, there are still a number of important dates that arise throughout the season. You need to stay mindful of these holidays if you want to make life easy for your guests. Halloween and Thanksgiving are the biggest dates to think about. Many people also unofficially "celebrate" days like Black Friday and Cyber Monday to get ahead of Christmas shopping. Staying aware of these events can help you plan your wedding around any major conflicts.
When it comes to tying the knot in the autumn, there are a number of different ways to maximize your experience. Find the right tactics for your needs, and see how you can totally transform your big day.