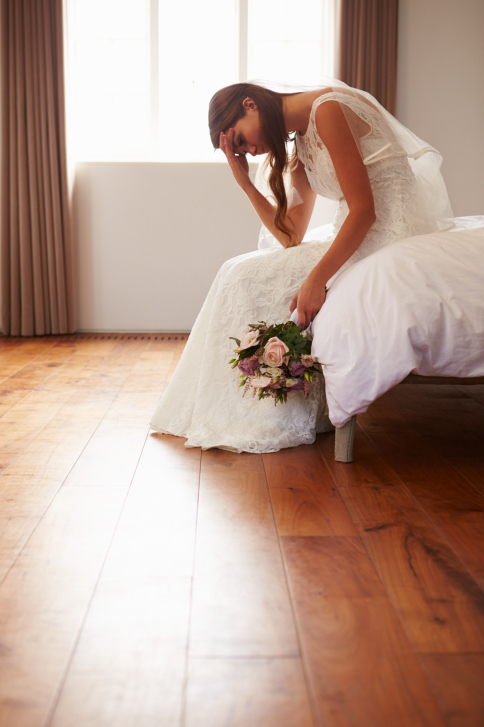 Getting cold feet is not uncommon.
Getting married is one of the biggest decisions of your life. Even though it's exciting to get married to the love of your life and commit to staying together for the rest of your lives, the thought can be a little overwhelming at times. No matter how long you have been dating or engaged, it's somewhat normal to have some second thoughts or concerns before the big day. If you are feeling this way, try not to get discouraged. If it is not you but your future spouse who has voiced some concerns, try not to take it too personally. Overall, these feelings won't last long. Here are some concerns that are common among engaged couples.
Is He or She the Right Person?
Perhaps the most common worry people have before getting married is whether or not they are marrying the right person. Obviously, it is important to make sure you are in love with the person you are getting married to, and that means loving him or her through the good times as well as the bad. Your future spouse is going to have habits you don't like, but you should be able to see past them. However, if you have been dating for a long time and seem to know all there is to know about each other, then don't worry. It is quite common to feel this way before a wedding, so don't freak out too much unless you have legitimate concerns.
What if Something Goes Wrong on the Wedding Day?
Your wedding day is likely going to be one of the biggest days of your life, and there is a lot of planning that goes into it. Because of this, it is quite natural to worry something is going to go wrong. These worries can become so intense that you are actually dreading your wedding day. However, try not to worry too much. Once again, these feelings are normal. Even if something does go wrong, such as the best man forgetting the wedding rings or the DJ playing the wrong songs, your wedding day is going to be wonderful. One day, you may even look at these disasters and remember them with fondness.
Are We Ready to Get Married?
Getting married is a huge step in your life. Needless to say, it's important that you are ready for it. That being said, you may never feel completely ready to get married. It is a big responsibility but one that is well worth it. If you and your future spouse are in love and truly committed to each other, then you are likely ready to get married.
Exceptions
Most feelings of cold feet are natural and often part of the engagement process. However, there are some things that should be a red flag. Here are some things that should make you reconsider whether or not you are getting married to the right person:
If there is any abuse in the relationship, get out now. It won't get any better once the two of you are married; in fact, it will almost certainly get worse.
If you two can't agree on whether or not to have children and it's equally important to both of you, delay the wedding until you can come to an agreeable conclusion.
People with different religions can be married to each other. However, if there are clashes that may make it hard to live together, then it may not be the best idea to get married.
Whether your wedding day is tomorrow or still months away, try to relax and enjoy the process. Hopefully, you will only get married once, so it's important to enjoy it and stop sweating the small stuff.