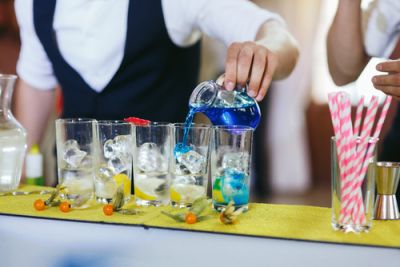 With the popularity of craft cocktails, a greater acceptance of boxed wines, and mixology blossoming into an elevated art form, engaged couples have more choices than ever before for serving high-quality drinks at their weddings. More nearlyweds are paying attention to sourcing the best bar providers and choosing top-notch ingredients. You can fine-tune a bar to please your crowd, but the right setup and products are critical. By following useful advice, you can offer a spectacular bar and ensure your guests' satisfaction.
Reasons To Personalize Your Wedding Bar
Personalizing your wedding bar is probably motivated by a desire to offer a customized high-quality drink experience. Maybe you're trying to finely tailor the beer and wine provided to your crowd. Perhaps there's a signature cocktail you'd love to serve.
No matter what your goals, a carefully thought out bar can help you accomplish them, whether you're renting one from a vendor or you're doing a DIY setup. If your bar will be provided by your caterer or bartending services company, you'll have less control over how it looks. In contrast, a DIY wedding bar allows you to integrate its appearance into your wedding reception theme and décor. The best choice for your event depends on your needs, objectives, and budget.
Tips for Stocking Your Bar
Keeping your guests happy starts with ordering the right amount of alcohol and cocktail ingredients. This can get a little tricky when you're trying to account for your guests' preferences. The Knot offers a sample shopping list based on a full bar for 100 guests during a four-hour reception. Martha Stewart Weddings' Nicole Harris mentions that you should plan to serve one drink per guest per hour. General guidelines also suggest that your alcohol supply should consist of 50% wine, 20% beer, and 30% liquor.
Keep in mind that you can tweak your supply based on your invitees' typical consumption patterns. A Practical Wedding's Dana Eastland points out that your alcohol supply will be a little different if you choose to serve a signature cocktail. Nearly everyone will be drinking your signature drink during cocktail hour, so you should subtract one hour from your reception's total serving time and calculate the rest of your alcohol needs based on the "one drink per person per hour" method.
Essential Equipment for a DIY Bar
It's important to buy the right amounts and types of booze, but equipment is also vital. If you're renting a complete wedding bar setup from a vendor, you'll likely have equipment, ice, and other important extras supplied with it. However, you'll have to source all of this yourself for a DIY bar. Once again, A Practical Wedding's Dana Eastland has some smart advice that includes several basic tools:
Wine key corkscrews: one per bartender
Bottle openers: one per bartender
Small buckets for ice
Ice scoops: one per ice bucket
Bar rags: one per bartender per hour
Large buckets for storing cold cans and bottles
Large coolers with lids for extra ice
Garnish containers
Shakers: one per bartender
Stirrers
Having a fridge and freezer at your venue will make it easier to keep items chilled. You'll need to calculate how much ice to buy, but you must keep the ice for chilling drinks separate from the ice included in your drinks. Don't forget about smaller essentials such as napkins and garnish sticks. Finally, you can probably obtain your glassware from the same company that provides the rest of your event rental items.
Research and Preparation Are Vital
Food and drink are fundamental components of any wedding reception, which is why you carefully select your vendors and menus. Putting the same effort into research, attention to detail, and sourcing the right supplies will help you craft a great reception bar.