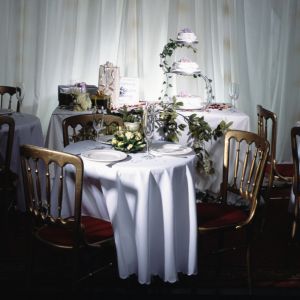 A recent article in Slate brought attention to a media practice that some couples have long suspected or hoped got the facts wrong: surveys that significantly inflate what people truly spend on weddings these days. "Grossly misleading" is one of the terms used to describe the very long and seemingly precise lists of what it takes to pull off the big day. It turns at that while there may be a correlation to reality in terms of which cities are more expensive places to plan an event than others, the vast majority of couples manage to have a lovely day on a fraction of the publicized numbers.
Why the Padding?
Surveys are generated by organizations such as The Knot, a popular wedding website, and publications such as Brides Magazine. Technically, the itemized costs correctly reflect the experiences of the participants of the survey, and therein rest some answers to why the numbers are so high. People who engage in the surveys subscribe to the website or carry a subscription to a magazine or service involved in the wedding industry. Participants, therefore, do not necessary supply a great deal of context for U.S. weddings in general. It is likely that the men and women who answer the surveys are greatly invested in what many people would view as elaborate events. Often, these are the couples that purchase those fabulous haute couture dresses and engraved-everything one sees on the glossy pages of industry publications.
A Question of Grammar
Another revealing aspect to the discussion is the use of the word "average" to describe what the survey authors intend as typical. In fact, an average cost is not necessarily a typical number at all, but the sum of all of the total costs of weddings in 2014 divided by the number of couples who got married. All it takes is a few million-dollar events to skew the results and inflate the numbers. While the wedding industry may indeed use an "average," a more meaningful number for many couples would be the mean, or the number that lies in the middle of the spectrum. Media sources have published the following costs for a wedding in 2014:
CNN Money: $28,400
NY Daily News: $27,000
Reuters: $27,021.
A New York wedding sits at the upper end of the scale at $76,000, with Alaska pulling up the rear at $15,504. More typical celebrations are estimated to cost approximately 20 percent less than those in the surveys.
Boon for Industry Professionals
What, then, is the purpose or benefit to publishing higher costs than are accurate? It seems the practice is in place to benefit the wedding industry itself. The data may prepare couples to expect premium prices, and legitimize higher price tags at venues, catering operations and other wedding-specific services. Also, the surveys may lend a sense of accomplishment to couples that come in under the expected budget.
Real Trends
Other sources suggest that there are quantifiable and shifting trends in how people are organizing their celebrations, and where they are spending their money. Many couples skip the sit-down dinner and opt instead for events such as wedding weekends and parties beyond the reception. There's still cake, but one is as likely to see a lineup of catering trucks as a tuxedoed waiter passing a platter of hors d'oeuvres. Approximately 14 percent of couples ask a friend or relative to officiate at their ceremony, and the best man and maid of honor may now be a best woman or man of honor. Around 11 percent are skipping wedding favors and choosing to donate money to a good cause in their guests' names. No matter what they spend, it is still important for couples to make their wedding day a unique reflection of their love for one another.
Category: Get Ordained Perform a Wedding