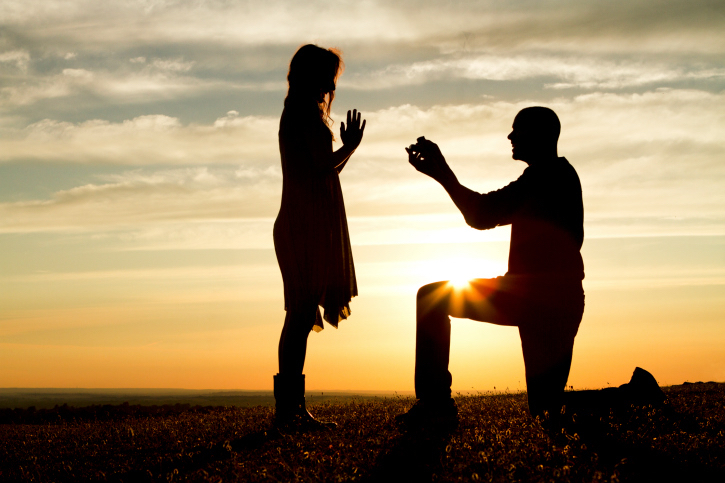 Your proposal should be well thought-out
You've found the woman of your dreams and have decided she is the perfect one for you. You want nothing more than to spend the rest of your life with her, have children, and grow old with her. However, you might be wondering how you should go about proposing. It can be an intimidating thing to think about, and you may be worried about making it a perfect experience. There are a lot of different ways to go about it, and the one that is best for your future fiancée depends a lot on her personality. For example, is she a person who likes to be the center of attention or somebody who is more private? What are her favorite things to do? Knowing these things and applying them to the proposal can help you make the proposal a special moment for both her and you.
Pick the Right Spot
Of course, one of the most important things about a proposal is having the right location. There are a wide range of choices for you when it comes to the right spot. If she is someone who likes the spotlight, then you might consider her favorite restaurant or somewhere that is memorable for the two of you. Is she a baseball fan? If so, you might consider taking her to the baseball game and arranging for the proposal to show up on the jumbotron. While this seems a little cheesy to some, it can be the perfect proposal for those who are major sports fans.
If she is more of a private person, then you might want something lower key. If the weather is nice, you might consider planning a picnic in the park in a secluded area. Make her favorite meal, or get food from her favorite restaurant. Put a lot of thought into it; include everything you would need for the picnic. This can be a great choice for someone who is a little more introverted and doesn't like to be around a lot of people.
Propose First
Most of the time, people tend to wait until the end of the night to propose. This is a fine option, but it can leave you feeling nervous for the majority of the evening. If you find that you are having a hard time enjoying yourself because you are so anxious to propose, consider doing it at the beginning of your date. This takes the pressure off you, and you can enjoy your first night together as an officially engaged couple.
Personalize It
Another thing that can make an engagement even more special and memorable is picking ways to personalize it. There are a wide range of ways you can do this:
Bring the teddy bear that you won for her on your first date at the carnival.
Include a CD with the music that played during your first dance.
Consider returning to the restaurant where you share a special memory.
Give her the same flowers you did on your first anniversary or other important occasion.
These are just a few of the many ways you can incorporate something special from your relationship into your proposal, making it an even more memorable experience.
Rehearse but Speak From the Heart
You want to speak from the heart, but you also want to have a good idea of what you are going to say. Practice in front of the mirror, but don't be afraid to express your emotions on the special day.
Proposing can be terrifying but also one of the best days of your life. Find the perfect location, find ways to make it personal, and figure out what you are going to say. These things can help ensure your proposal goes smoothly.