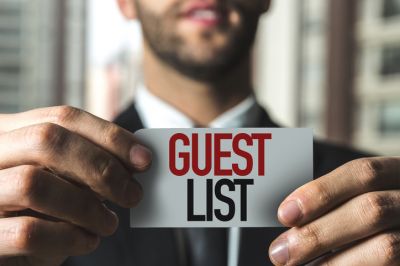 Getting married is a lot like planning a large party in many ways, especially since you'll be including food, drink, entertainment and decorations. Besides these details, you'll also need to select a venue and send invitations. Knowing what you need and how much you'll spend depends heavily on your guest count, so you need to have your numbers pinned down as early as possible. How do you narrow down the list of who you'll invite? Some wise advice can help you as you plan.
Collaborating With Your Partner
As Meg Keene from A Practical Wedding emphasizes, you'll need to work together with your partner to craft a shared vision for your event before deciding on actual numbers. Whether it's a large gathering of a couple hundred friends and family members or a small, intimate affair with those nearest and dearest is up to you. Keene also recommends that you both answer a few questions to help hash out the details:
How many attendees do you want?
Do you mind if guests bring children?
Will single guests be permitted to have "plus ones"?
Deciding on Your Numbers
Your guest count determines several elements of your wedding, such as the size of your venue and how much you'll spend on food and drink. Smaller affairs are generally less expensive than larger ones, but even that's not always true if you choose pricier eats, expensive cocktail drinks or a ritzy location. Either way, you'll need to figure out exactly how many people you want to share your big day with. The Knot estimates that between 10 and 20 percent of your guests won't be able to attend, so it's a good idea to invite 10 percent more than your desired number. For destination weddings, expect at least 50 percent of your guests decline because they can't make the trip.
Meanwhile, Nina Callaway of The Spruce proposes a more elaborate approach. Most couples tend to get lower RSVP percentages from nonlocal guests. According to Callaway, this can range between 55 and 65 percent of your total number of out-of-towners. She suggests splitting your list up between local and out-of-town attendees, calculating separate estimates for each group, and adding the two numbers together to get a ballpark figure. Finally, Callaway emphasizes that you should send invitations between six and eight weeks in advance of your date.
Narrowing Down Your List
Pinning down your guest count is one thing, but your next step is figuring out who to invite. If your parents will be co-hosting the event, they'll probably wind up contributing to the guest list. At the same time, you'll be juggling various contacts from your social and professional circles and deciding whether to extend invitations to them or not. Thankfully, Brides writer Jen Glantz offers some helpful guidance on which groups you can safely nix from your list:
Family members you've not spoken to in years
Friends with whom you've lost contact
Neighbors
Work colleagues
Glantz also explains that you're not obligated to invite anyone whose weddings you attended years ago but haven't been in contact with since. As for people in your social circle who tend to get out of hand, you can opt to leave them off the list. Alternatively, you can extend the invitation anyway and enlist extra security as a precaution.
Planning your wedding can be challenging, with so many moving parts that fit together. However, your guest count is a vital factor that you need to pin down before you can shop for caterers, pick out a cake or book locations. Let the overall tone of your event, your budget and your heart guide you as you decide who to invite. The point isn't to "keep score," but to surround yourself with the people you value the most.