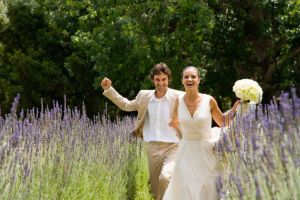 In many ways, a second wedding may be a wonderful opportunity to design a ceremony and celebration that honors the intimacy of the event. Oftentimes a first wedding encompasses a wider circle of family, friends and celebrants. It may seek to honor long-standing traditions associated with getting married for the first time. Many of these traditions, such as the bride being escorted down the aisle and "given away" by her father or a patriarch may no longer seem relevant to a second union. A second marriage gives the couple a chance to hit the refresh button, take tradition into their own hands and create new memories for a new life together.
Wedding Redux: Go Somewhere Delightful
Whether it is a tropical isle or a cabin off the coast of western Canada, for your second wedding, you are free to choose a destination that speaks to you both. Make it a departure, quite literally, from the first time around. The likelihood that not many people might be able to attend only increases the intimacy. You can always throw a party for the masses when you get back. In the meantime, you may create a unique and treasured experience by creating a little distance. Plus, it is a terrific opportunity to combine both the ceremony and the honeymoon.
Shake Up the Ceremony
Really, the pressure is off. Why not turn the event a bit on its head? You and your betrothed may feel more involved in the celebration by flipping protocol and starting the ceremony with a receiving line. Greet the celebrants together, and when they are comfortably seated, the officiant may walk you and your partner up the aisle. Or stroll up together hand in hand to meet the waiting officiant at the place where you may take your vows.
Fold in the Family
It may well be that you and your partner come to this new union with family in tow. There are so many places to include children in the event. You may wish to print their names on the invitation. If they are agreeable, one or some of them may wish to do a reading of a special piece or be involved in the selection of music. If they are of age, there is no reason why a son or daughter could not officiate at the ceremony. Ordination is available online, with information and guidance on how to conduct a wedding ceremony. Many couples might consider it a deep blessing to be honored in such a way by one or more of their children.
Throw a Surprise Wedding!
Picture this: you send out invitations for a party and ask people to rsvp. You set a theme, perhaps a '70s disco extravaganza or a come-as-your-favorite-superhero costume gala. Or maybe it is just a simple backyard barbeque. In any event, the idea is that you plan a party. When the cherished guests have arrived (maybe in costume!), you and your beloved announce that a portion of the festivities will include a wedding. This may be a particularly good idea for the couple-to-be that either has everything or wishes not to receive anything more in the way of gifts. As the guests will not have been made aware of your secret agenda, their offering may be the simple gift of their presence.
This One's for You
A second wedding may of course embody much of the spirit of a first wedding. Both events honor and celebrate the union of two people and their impending journey together. The second time around may lend itself to a different kind of intimacy, one that acknowledges experience and life's twists and turns. It celebrates the willingness to commit once again with all one's heart.