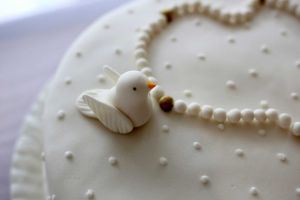 Baptisms are common for many families, whether new parents are having their baby baptized or an adult has decided he or she would like to be baptized. It is also a common practice to hold a reception afterward. These tips and tricks can help you plan a reception that will honor the baptized and have guests enjoying themselves.
Decide When and Where to Have the Reception
When deciding what time the reception will start, think about where the baptism ceremony will be and how long it will take to get to your baptism reception venue. Give people enough time not only to travel but also to linger for a few minutes after the ceremony. If you'll be having a casual reception, you may also consider either giving people enough time to go home and change into more comfortable clothes or providing a space for them to change their clothes at the venue.
When it comes to where you decide to hold the baptism reception, think about whether you'd like it to be formal or casual and how many people you'd like to invite. Something close to the ceremony venue is the best option, but not necessarily a requirement. Some choose to have very formal receptions with religious undertones, much like the baptism itself. Sometimes just immediate family members will have lunch or dinner at a local restaurant. You may also opt to have a casual barbecue at a park or in your backyard, in which case you can invite more people.
Choose a Guest List
Consider who you want to share in such a special and personal event. In most cases, the ceremony consists only of immediate family and godparents. You can invite more people to enjoy the baptism reception if you like, but it is not a requirement. However, you should not expect gifts from people who weren't invited to the ceremony, and never invite someone to the ceremony if you don't want to invite them to the reception. Remember to think about the children of your invitees, especially of family members who it would be rude not to invite.
Plan the Food and Drinks
If you will be holding the baptism reception in your home, at a park or in an event center, plan to provide the food yourself. Determine how many people you'll be inviting and budget accordingly. If you are inviting your immediate family members to a restaurant, it is good etiquette to pay for the meal, so you should also factor this when making your budget. For a casual affair, a simple lunch, cake and soda or juice is relatively affordable, even for larger guest lists. Remember, the larger the group, the easier you should make the meal, especially if you are on a budget. Large groups are easy to feed buffet-style but can be expensive to accommodate if you serve a full meal because you will likely need caterers and servers. You can also provide more options with a buffet. Here are some food ideas that are likely to go over well:
Sandwiches
Burgers
Hot dogs
Chicken
Fruit
Vegetables
Potato chips
Cake
Cookies
Candy
Decide on Entertainment
Entertainment isn't required at a baptism reception, but if you want it to feel like a party, it is a good idea. Consider lawn games, music or even a children's entertainer. Entertainment doesn't need to be expensive. A bit of imagination, a good set of speakers and a great playlist is really all you need to keep people having a good time.
The Gift Guide
If you don't mind gifts for the guest of honor, you don't need to say anything at all. However, if you prefer guests not bring baptism gifts, include "no gifts, please" on the invitation or spread the word via email or word of mouth.
Whether you send invitations via the postal service or online is up to you and how formal your event is, but be sure to do so three to four weeks prior to the baptism. This ensures your guests have time to plan and that you will have a fun reception that includes your friends and family members celebrating the newly baptized.