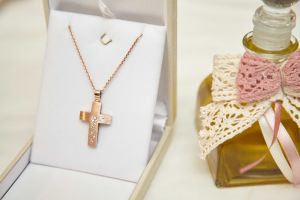 Whether new parents are having their baby baptized or someone has found religion and decided to be baptized as an adult, the ceremony is a special time for all involved. If you've been invited to a baptism, follow the proper etiquette when considering what to bring as a gift.
To Bring a Gift or Not to Bring a Gift
Whether you should bring a gift to a baptism depends on the circumstances. If the baptism is for a new baby, you don't necessarily need to bring a gift if you already gave one at a baby shower or after the baby was born. However, it is still considered polite, so you should bring one if you can afford to. Pastors and priests who perform baptisms do not expect gifts, but if you can afford to make a small donation to the church, consider leaving an envelope in the collection plate with instructions to give it to the pastor directly after the baptism.
The Right Amount of Money
The amount of money you should spend on a baptism gift depends on your connection to the person being baptized as well as on your financial situation. If the parents or the adult being baptized know that you are on a budget, they will not expect a lavish gift, but if you can afford to purchase one, you should do so.
Spend at least $100 if you are a godparent.
Spend at least $50 if you are another close friend or relative.
If you cannot afford that much, consider creating handmade gifts that are meaningful. You could also give a small amount of money and dress it up by presenting it in a cute bank or another meaningful way.
What to Give as a Baptism Gift
Due to the religious nature of baptism, it is customary to present the person being baptized with a symbol of his or her faith. However, before presenting a Bible, be sure to check with the parents or the guest of honor to ensure he or she doesn't already have one. Other ideas include religious jewelry such as a cross or rosary. Silver items are also popular. For a baby, you can engrave a silver rattle or place setting. If the person being baptized is older, consider having silver jewelry or an intricate silver photo frame engraved. You may also consider religious artwork.
If you prefer to make something, consider your talents. If you quilt, knit or crochet, you can make a blanket or piece of clothing. Perhaps you prefer to paint a piece of artwork, take beautiful photographs of the baptismal ceremony or reception, or present the guest of honor with a musical piece.
Some parents who baptize their babies do so more because of family tradition than because of religious beliefs. If this is the case, you can often forego religious symbols in favor of more practical gifts such as clothing, toys or other items the baby will need over time. However, be sure to check with the family before going this route.
For many people, giving money is customary at a baptism, but not every family is comfortable with receiving cash. Ask the hosts before showing up with cash or a check.
When to Give the Gift
It is considered rude to give a gift at the actual baptismal ceremony. Most baptisms include a reception afterward, which is when you should present your gift. If you can only make it to the ceremony, mail your gift before or after the day of the event instead of waiting to present it between the ceremony and reception.
As with any event, it is important to follow proper etiquette as well. Dress appropriately, show up on time, and always respect the wishes and beliefs of the hosts of a baptism. If you do not feel you can do this because of your own beliefs, politely decline the invitation.