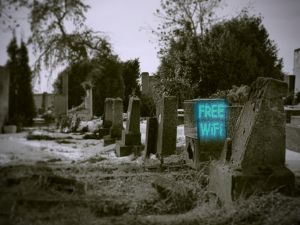 Most everyone has a story or recollection about the misuse of social media in a social situation. Incidents range from embarrassing selfies to inappropriate or even vengeful posts. As with much technology, social media sites can often offer more opportunity to share and connect than the typical user knows how to manage. Funerals are a modern testing ground for how people are learning to navigate social media. While many individuals may be moved by an impulse to share their experience at a funeral, such inclinations can run contrary to the privacy needs of friends and family. In some recent high-profile cases, mourners have objected to real-time posts sent during services on sites such as:
Facebook
Twitter
Instagram
Intimate Space
A funeral service may be considered a unique social and cultural event in that it is both a gathering of people and an opportunity for individual and private reflection. Regardless of whether or not the people grieving have any religious affiliation, a memorial service may have a sacred quality that very much honors the moment as well as the memory of a loved one. The indiscriminate use of social media during a service may run counter to the concept of being present and available in the moment. While disrespect is rarely intended, careless use of a camera or an ill-timed message or post may disrupt a service and become an unwanted distraction from the focus of the occasion. For that reason, many people believe that it is best to completely stow devices during a service.
Social Media as a Tool for Grieving
On the other hand, many funeral directors and families have discovered how to use technology to draw people together for a memorial who otherwise would not be able to participate. There is a growing trend to live-stream memorial services to accommodate friends and family who may be engaged overseas in military service, or who simply live too far away to attend. Streaming the event helps to counter what some people refer to as the American diaspora. Over the last decades and across the country, there has been a physical dissolution of families as younger generations grow up and leave home, or as people change jobs and locations at a rate unheard of 50 years ago. Today, technology can put people in the same room no matter how far-flung they may be. This can be a very powerful tool for sharing and processing grief from the loss of a loved one.
Facebook Memorial Pages
Social media giant Facebook has long had a policy of keeping accounts active of people who have died so that friends may visit and post support in memoriam. Many participants find comfort in reading posts and looking at photos online long after the loved one's passing. Administrative restrictions apply. In general, the site is closed to anyone who is not already registered as a friend, and the page will not appear in the People You May Know section on other people's pages. Content remains. Supporters of memorial pages appreciate what they see as an online opportunity to come together in a time of loss, to share memories and to offer condolences. Skeptics argue that such pages may actually enable people to avoid the discomfort of face-to face grief by putting a screen in between themselves and other mourners. This school of thought maintains that technology inhibits essential social skills, for example, the ability to be present, and offer and receive comfort while experiencing pain. Whatever one's take on the subject, it seems clear that social media and the technology that drives it will remain a part of the collective experience. As in the past, it will fall to people to figure out how to best use the tools available to help each other find their way in difficult times.