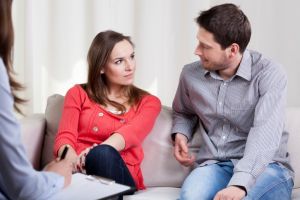 When you get engaged to the love of your life, things often become a whirlwind. There are many different decisions and plans that need to be made. However, there is one thing people may forget about in the craziness of getting ready for the biggest day of their lives. Many people forget to plan for the marriage itself. There are many things you and your future spouse should discuss before sharing your vows with one another to make sure issues in the marriage are minimal. One of the best ways to make sure you are prepared for marriage may be by attending premarital counseling. Many people think of counseling as something couples only attend when their marriage or relationship is in trouble, but there are several different advantages to attending counseling before problems arise.
Answering the Tough Questions
One of the main ways this type of therapy can help you is by getting the hard questions out of the way. It gives you a chance to see what you disagree on and how you can compromise before it becomes a serious problem. For example, let's say you want to have a large family while your fiancé is set on only having one or two children. This can be a problem if it is not addressed before the marriage. There will need to be some compromise, and it can help to get this figured out with a premarital counselor. Other important things to discuss before getting married include:
Will both the husband and wife work or will one stay at home?
How will you handle finances?
Is religion something that is important to one or both people?
There are a lot of things that should be discussed, and doing so in front of a counselor can help ensure things get resolved before they become large disputes.
Learn Communication Skills
One of the main reasons for marriage troubles is lack of communication. When you aren't able to communicate properly, misunderstandings can occur, which can lead to fights, separations, and ultimately, divorces. One of the ways you can prevent this is by learning communication skills. This can include things like learning your future spouse's love language, figuring out how you will handle an argument, and deciding what you will do to make sure neither feels left in the dark.
Gain Wisdom From Other Couples
Couples who have been married for a long time often have wisdom you do not yet have. It's a matter of having experience and learning how to make your marriage work. When you attend premarital counseling, you are gaining wisdom from couples who have gone before you. This can give you a chance to learn from their mistakes and an opportunity to learn how you can prevent future problems. It can also show you how you can truly enjoy each other in good times and bad.
Better Now Than Later
Most would agree it's better to attend premarital counseling now than have problems in your marriage and have to attend marital counseling later. Of course, counseling does not guarantee you will not wind up divorced, and not attending does not mean your marriage is doomed to fail. However, there is a good chance you will prevent issues from arising later when you attend this type of therapy, which may prevent you from needing counseling in your marriage when things start going wrong.
Marriage is a challenge, but one that is well worth it. While it can be difficult to merge two lives into one, most who have had successful marriages will tell you how joyful and wonderful life can be when you're sharing it with the one you love most. Attending premarital counseling is not a requirement and may not be right for everybody, but it is something you may want to consider before taking your wedding vows.