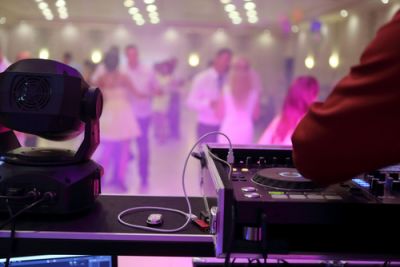 As you're pulling the details of your wedding together, it's easy to overlook one crucial item: sound quality in your venue. While you may have a beautiful ceremony in mind, your guests will miss out if they can't adequately hear you and your spouse along with your officiant, musicians, and readers. Worship houses, ballrooms, and theaters may have their own sound systems available, but it's smart to consider alternative sound solutions and advice for your wedding.
Choose a Venue With Great Sound
The day of your rehearsal should not be the first time you check the sound setup for your wedding. In truth, it's wise to think about audio quality when you evaluate each location's suitability as a ceremony or reception site. You should already have a rough estimate of your guest count in mind when you shop venues, but you'll also need this information to determine whether your attendees will be able to hear. Whether it's your own house of worship or another location, it doesn't hurt to inquire for details on its sound system and ask for it to be tested before you make your final decision.
The Right Equipment for the Job
If you fall in love with a place with either a subpar sound setup or no system at all, you still have a few options. Backthird Entertainment, a Chicago-area company, suggests renting a third-party sound system in the following scenarios:
You have 100 guests or more at your event.
You'll be using eight aisles or more for seating attendees.
Your ceremony and reception are outdoors.
Depending on the vendor, you may be able to snag both a sound system and a professional engineer. Although professional setups and services can vary, CNET contributor Donald Bell discusses some general pointers about sound equipment. While the ones Bell describes are geared towards DJing a reception, basic elements can include the following:
Microphones
An audio mixer
Speakers
Audio cables
Just like when you're booking any other type of business, you shouldn't neglect to check your sound company's online customer reviews, talk to its past clients, and read all contracts completely before signing or paying a deposit.
Accommodations for Hearing Impaired Guests
As you work out the minutiae for your big day, it's important not to forget about guests who are hearing impaired. You probably already know to ask your invitees about any special needs for the ceremony or reception. Jill von Büren of Hearing Like Me points out that some hearing impaired guests may rely on hearing aids or personal FM systems, both of which may require some key accommodations:
Guests who use hearing aids may have difficulty enjoying the ceremony if there's a lot of background noise.
Loop systems can be added to a PA setup to transmit sound from microphones directly to your attendees' hearing aids while minimizing excess noise.
Those who depend on personal FM equipment will not need a loop system to enjoy your wedding. All that's required is a remote microphone to connect to the FM system.
Should you find yourself needing to accommodate guests with hearing issues, be sure to speak to your venue management or sound vendor well in advance.
Plan for Optimal Results
A lot of thought goes into making your wedding a delightful experience, so it's crucial to make sure your guests can hear and enjoy your event. Checking the quality of each venue's sound system is a great first step. At the same time, you can also rent setups and sound engineers for outdoor or other locations needing extra amplification. Shop carefully before you hire anyone, and don't forget to include accommodations for hearing impaired guests. Observing this useful advice can ensure that your special day is memorable for everyone.