Similar to many other religious traditions, the path to becoming an imam is incredibly varied, as Islam covers a wide variety of denominations, sects, cultures, and geographical locations. First, it is helpful to clarify what is meant by the term imam.
What is an imam?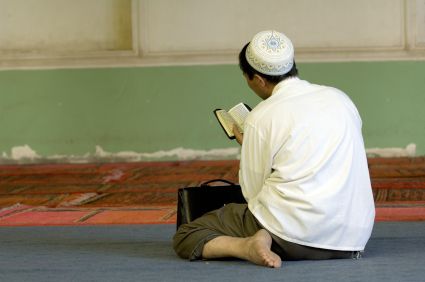 In the Shi'a tradition, imams are believed to be chosen by God as infallible leaders incapable of sin, similar to prophets.
In the Sunni sect, the word imam refers to anyone leading prayer. This could be a person who is leading prayer in a congregation or a person leading prayer in a group of three or four people. In context, an imam of the Islamic faith generally refers to an appointed congregational leader or scholar. Similar to Universal Life Church ministers, imams take on varying roles with differing levels of community involvement.
How do I become ordained as an imam?
There is no formal process to become ordained as an imam, and Muslims generally reject the idea that someone can become ordained. Imams in major cities with large congregations are generally men who have formally studied Islam in a theological school and have displayed leadership in the community. In smaller towns, imams sometimes have no formal education and come to be regarded as imams by living a righteous life and independently studying the Koran. Both of these selection processes are much stricter than the online ordination processes of the ULC, which believes that anyone has the right to become ordained.
After completing theological school or demonstrating adequate religious devotion, a Muslim devotee may come to study under a leader of a mosque. As they learn and worship, they may be asked to serve as imam to a gathering and lead prayer. Eventually, the imam in training will take on more responsibility in the community, and mosque leaders determine that they are fit to be a permanent imam at the mosque.
In a manner different from the philosophy of the Universal Life Church, there is controversy in different Muslim communities as to whether a woman can serve as an imam or oversee prayer. Some communities believe women can only oversee women-only gatherings, and others believe women cannot oversee prayer under any circumstance. Congregations in Canada and Britain have had women preside over mixed gatherings.
What does an imam do?
An imam at a large mosque works full time leading prayers, setting up events, and seeing members of the congregation. Just like a ULC minister, an imam conducts wedding ceremonies and other social rites. An imam in a country that is not traditionally Muslim, such as Canada or the United States, helps Muslim communities navigate a culture that is very different than what they're used to.
This is the second post in the How Do I Become Ordained Series. The next couple of posts will look at how Shinto and Hindu devotees become ordained; we hope you check those out, too!