How Is the ULC Ordination Certificate Made?
The ULC Monastery's beautiful, well-designed ordination certificate is professionally-printed by a print shop located close to our offices in Seattle, WA. The name and ordination date is printed on every ministers' ordination credential in our office, and the official ULC dove seal is placed onto them afterwards. The result is an aesthetically-appealing, high-quality document that will impress others and county clerks!
What Does an Ordination Certificate Allow ULC Ministers To Do?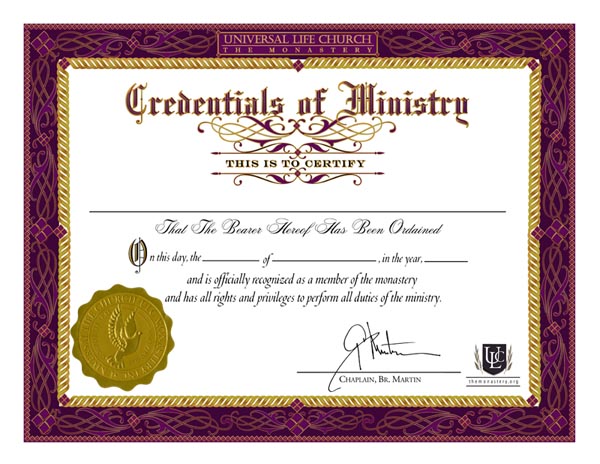 The ordination certificate: the single most important ministerial documentation issued by the ULC.
The only service provided by ULC ministers that is regulated by the federal or state governments is the solemnization of marriages, and thus the ULC ordination certificate is generally used to prove our ministers' ordination status to county clerks when the former attempt to file marriage licenses with the latter. These credentials are used to a lesser extent to demonstrate ministerial status when a minister applies for the right to serve as a hospital or prison chaplain or when they perform a baptism of funeral.
Please note that the standard ordination credential is frequently not all that is required of our ministers when they want to file for a marriage license after performing a wedding. Please read the last section of this post to learn more about what types of ministerial documentation you may need.
Why Must I Use the ULC Ordination Certificate?
In the past, the ULC Monastery and other branches of the ULC allowed its ministers to print their ordination certificates from home. This is now no longer the case because county clerks frequently raised concerns about the legitimacy of our ministers' shoddily home-printed credentials when this policy was in place.
If you were a county clerk and someone brought in a poorly-printed, supposedly "official" ordination certificate on regular 8.5 x 11" piece of printer paper, would you believe that the document was in fact official and that the person bearing the document was in fact a legally-ordained minister? County clerks frequently did not accept these ordinations in such situations, and the ULC Monastery was thus forced to exclusively offer professionally-printed credentials on its website.
How Do I Get My Own Ordination Certificate?
In many states, the ULC ordination certificate is all that online-ordained ministers need to perform a wedding.*
The first step to getting a minister license is to become an ordained minister online, if you have not already done so. Fortunately for the un-ordained, the process of online ordination is both extraordinarily easy, free, and takes only minutes to complete. Simply visit , click on the large blue "Become a Minister" button with laurel leaves in the middle of the main page, and fill out the form that appears with your full legal name, mailing address, and email address. You will officially become ordained online as soon as you click on the "Submit Ordination Request," provided there are no errors after you do so, and should receive a confirmation email shortly thereafter.
You will be able to purchase the ordination certificate now that you are ordained. To begin, we advise that you log in if you have not done so already. This can be accomplished by clicking on the blue "Minister Login" button in the upper right hand corner of every page of and entering the email address and password you provided during the ordination process. Once you have logged in, visit the "Ministry Products" section and click on the first item under the "Bestsellers" column on the right hand side of the main page of that section, "Ordination Credential." The "Name on Credential" field and ordination date drop-down menus should be filled out with your information if you have logged in; enter the appropriate name and ordination date if they are not. Next, click the red "Add to Cart" button and, if you do not need any additional ministerial documentation from the Ministry Products section, checkout by clicking on the blue and white "Checkout" link located in the upper right hand corner of every page in that section.
As previously mentioned, the ordination certificate might not be all that you need or even in the list of requirements for what you need to perform a wedding. Wedding officiants in Ohio and West Virginia need to get their own special version of the ordination credential with a live signature (found in the Ministry Products section by searching "Ohio" and/or "West Virginia") and people looking to perform weddings in states like, but not limited to, Nevada, Minnesota, Wisconsin and Hawai'i will need additional forms of paperwork. Remember to always make sure you contact the county clerk of any county you are going to perform a wedding in to ask what documentation they require ULC ministers to present to file for a marriage license!
Category: Minister License