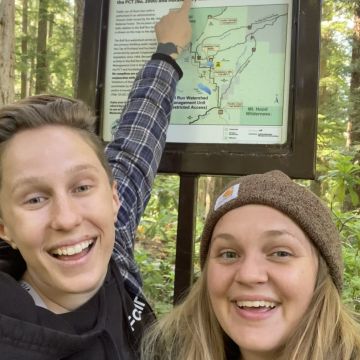 Experience
9 years, 7 months
Service Fee
$325
Payments Accepted
Cash, Check, Money Order
Travel Range
100 miles
About Me:
Hi Friends!
My name is Katie. I'm a PNW native. I perform a variety of services, from the beginning of life to the end. I specialize in queer ceremonies and nature bathing.
I validate all people from backgrounds and look forward to working with you!
I am based out of Portland, OR.
Religious Affiliations
Ahmadiyya, Aladura, Amish, Anglicanism, Asatru, Assemblies of God, Atheism, Baha'i Faith, Baptists, Bon, Buddhism, Candomble, Cao Dai, Cathari, Catholicism, Charismatic movement, Chinese Religion, Christadelphians, Christian Science, Christianity, Church of God, Church of God in Christ, Church of Satan, Confucianism, Conservative Judaism, Deism, Donatism, Dragon Rouge, Druidism, Eastern Orthodox Church, Eckankar, ELCA, Epicureanism, Evangelicalism, Falun Gong, Foursquare Church, Gnosticism, Greek Religion, Hare Krishna, Hasidism, Hellenic Reconstructionism, Hinduism, Illuminati, Intelligent Design, Islam, Jainism, Jehovah's Witnesses, Judaism, Kabbalah, Kemetic Reconstructionism, Kopimi, Lutheranism, Mahayana Buddhism, Mayan Religion, Methodism, Mithraism, Mormonism, Nation of Islam, Neopaganism, Neoplatonism, New Age, New Thought, Nichiren, Norse Religion, Olmec Religion, Oneness Pentecostalism, Orthodox Judaism, Pentecostalism, Presbyterianism, Priory of Sion, Protestantism, Pure Land Buddhism, Quakers, Rastafarianism, Reform Judaism, Rinzai Zen Buddhism, Roman Religion, Satanism, Scientology, Seventh-Day Adventism, Shaivism, Shi'a Islam, Shinto, Sikhism, Soto Zen Buddhism, Spiritualism, Stoicism, Sufism, Sunni Islam, Taoism, Tendai Buddhism, Theravada Buddhism, Tibetan Buddhism, Typhonian Order, Umbanda, Unification Church, Unitarian Universalism, Universal Life Church, Vaishnavism, Vajrayana Buddhism, Vedanta, Vineyard Churches, Voodoo, Wicca, Worldwide Church of God, Yezidi, Zen, Zionism, Zoroastrianism, Other, None
Types of Service Offered
Marriages, Same-Sex Marriages, Renewal of Vows, Handfastings, Baptisms, Funerals, Christenings, House Blessings, Exorcisms, Spritual Healing, Reiki Healing, Premarital Counseling, General Ministry, Spiritual Guidance
---